The $63-million Vancouver mansion with a view
July 7, 2017
---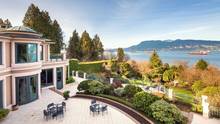 Even by Vancouver standards, it is a high-end sales pitch. Philanthropist couple Joseph and Rosalie Segal are asking $63-million for their mansion, a record list price in the city during a rebound in the residential market.
The Segals are co-owners of the property at 4743 Belmont Ave. – a scenic street where many of the most expensive properties in British Columbia are located.
The house contains nearly 22,000 square feet of space and is on 1.28 acres of land in Vancouver's posh Point Grey neighbourhood. Built in 1992, the three-level house features five bedrooms, 12 bathrooms, an elevator and an indoor swimming pool, and can handle 100 guests for a private concert. There is a six-car garage and an in-law suite.
VANCOUVER — The Globe and Mail
Published Thursday, Jun. 22, 2017 5:07PM EDT
Last updated Friday, Jun. 23, 2017 8:56AM EDT
---