Vancouver Housing Demand Drops Like A Rock, And Prices Are Now Falling
October 4, 2018
---
If current trends continue, all the housing in Greater Vancouver will be in a "buyer's market" within a few months. By Daniel Tencer
It's safe to say Vancouver real estate has entered a new era, and it's nothing like the old one. After a dismal summer, things appear to be headed for an even worse autumn.
The city's sales slump deepened in September, with home resales dropping by 17.3 per cent from August, and down 43.5 per cent from the same month a year earlier, new data released Tuesday shows.
With unsold listings piling up, the supply of homes for sale is spiking, putting downward pressure on prices, which are now falling all categories, and in most areas of British Columbia's Lower Mainland.
"Metro Vancouver's housing market has changed pace compared to the last few years," Real Estate Board of Greater Vancouver (REBGV) president-elect Ashley Smith said in a statement.
"Our townhome and apartment markets are sitting in balanced market territory and our detached home market remains in a clear buyers' market."
But townhomes and condos may not remain in "balanced territory" for long. The sales-to-active-listings ratio — a closely watched measure of market balance — has dropped precipitously for both housing types since the start of the year.
There are now only 14 townhomes selling every month for every 100 available, down from around 35 per 100 in the early months of the year. For condos, sales have dropped to 17.6 per 100, from around 60 per 100 at the start of the year.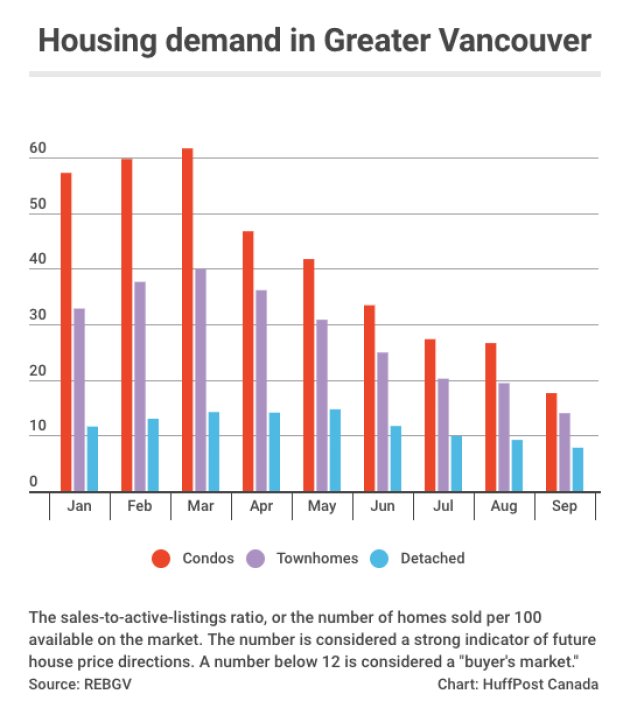 The REBGV considers any level below 12 to be a "buyer's market," and any level above 20 a "seller's market."
With eight sales per 100 available homes, detached houses have been in a "buyer's market" for some time. But if current trends continue for just a few more months, all the residential real estate in Greater Vancouver will be in a "buyer's market."
---